KNOW WHICH MATERIAL IS BEST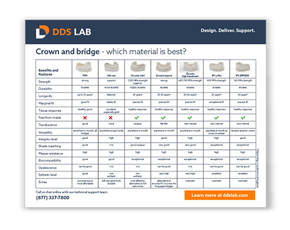 Patients have become more concerned about the material in their mouths and want to receive the most esthetically pleasing restorations. This demand has been accommodated with the introduction of newer and stronger ceramics.


THIS CHART WILL HELP YOU...
Decide which materials are best

Know the difference between crown & bridge products

Know all the benefits and features of each product
FREE COMPARISON CHART - CROWNS & BRIDGES MATERIAL GUIDE
Complete this form to download your free copy of our TechTalk.
Complete this form to download our FREE White Paper
We will always keep your information safe.