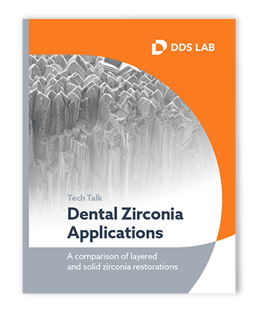 Dental Zirconia Applications
All zirconia materials are not innately equal, as there may be differences in the overall flexural strength and cosmetic capabilities.

When prescribing zirconia restorations, a solid understanding of the specific benefits
and potential drawbacks is vital.


After reading this TechTalk White Paper you will...
Know the pros and cons of layered & solid
Receive a full comparison chart
Receive technical tips
FREE TECHTALK - LAYERED VS. SOLID ZIRCONIA APPLICATIONS
Complete this form to download your free copy of our TechTalk.
Complete this form to download our FREE Comparison Chart
We will always keep your information safe.