CREATE FLAWLESS & NATURAL
LOOKING SMILES!
DDS Lab is proud to partner with you.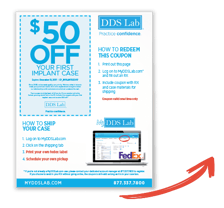 Our specialized implant team and technicians are knowledgeable, experienced, and well-trained to support all implant cases.
By assisting the dentist with carefully prepared case planning, we can complete each fabrication stage to a skillful conclusion.
DDS Lab supports dental implant fabrication for almost
all recognized systems.
MOST POPULAR SUPPORTED SYSTEMS:
Keystone Dental

Nobel BioCare

Zimmer Biomet

MIS

Dentsply

Biohorizon

Straumann

$50 OFF your first implant case!
Complete the form on the right to download your coupon today!
$50 OFF YOUR FIRST IMPLANT CASE
Complete this form to download coupon.
Download $50 off your 1st Zirconia High Translucent Crown or Bridge
We will always keep your information safe.