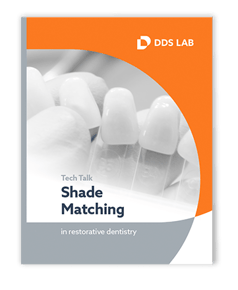 Increase the esthetic success of dental restorations
A key aspect in the ultimate success of a dental restoration, especially in the esthetic zone, lies in achieving accurate shade matching.


In this White Paper, we talk about:
How the source of light affects matching

How the environment affects matching

Photos for great shade matching results

Color perception
FREE TECHTALK - SHADE MATCHING IN RESTORATIVE DENTISTRY
Complete this form to download your free copy of our TechTalk.
Complete this form to download our FREE White Paper
We will always keep your information safe.