KNOW WHEN TO EXPECT YOUR CASE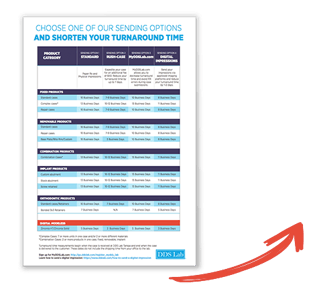 New to DDS Lab? Download our turnaround time chart and get an overview of when to expect your cases.
At DDS Lab, you have several options on how to submit a case. Depending on which option you select, each case's turnaround time could be up to 2 days shorter on average.


THIS CHART WILL HELP YOU...
Decide which case submission option is best for you

Learn about benefits and features of case sending options
COMPLIMENTARY DOWNLOAD TURNAROUND TIME CHART
Complete this form to download the FREE turnaround time chart.
Complete this form to download our FREE White Paper
We will always keep your information safe.