Once you have decided your implant systems, you will need to choose when to use cement-retained abutments or screw-retained implants, and when to choose custom abutments instead of stock abutments. Generally, for better esthetic results, a custom abutment is often recommended but this can vary from case to case.
Although many dentists prefer titanium implants, zirconia is becoming more popular. Then, there are the different types of crowns that can be used when placing a custom abutment.
CEMENTABLE ABUTMENTS VERSUS SCREW-RETAINED IMPLANTS
---
When choosing whether to supply cement-retained implant crowns or screw-retained implant crowns, there are various factors you will need to consider. These factors include retrievability, how well it will maintain the peri-implant tissues, how easy it will be to use, whether it is suitable for use with angled implants, and last but not least, the cost.
RETRIEVABILITY
Sometimes it is necessary to temporarily remove an implant crown. There are certain cements on the market that are made specifically for implant restorations which claim the implant crown will be easy to retrieve. Some dentists may also use temporary cement to hold implant crowns in position. This can be a good solution but it does mean that the crown will be less retentive which is less than ideal. In comparison, a screw-retained implant crown is far more predictable if the crown needs to be retrieved, particularly when a greater number of abutments are required. A multi unit restoration that is cemented in place will be far more difficult to predictably remove.
MAINTAINING PERI-IMPLANT TISSUES
When a crown is cemented into place there is always the danger that excess cement could be extruded into the sulcus. When this is the case, it can damage the peri-implant tissues unless the cement is fully removed. When subgingival cement is present around an implant, it can increase the risk of peri-implant mucositis and peri-implantitis. While there are good techniques for removing subgingival cement when placing an implant crown, there is still a risk that some cement may be missed. In comparison, a screw-retained crown doesn't carry this risk and may be easily removed for maintenance and cleaning.
EASE-OF-USE
Inserting a screw-retained implant crown can be more challenging compared to a cement-retained crown. This is particularly the case when fitting multiple unit restorations. With a cement-retained restoration where multiple abutments are required, the procedure to fit the restoration is still quite similar to a routine bridge placement. In comparison, placing a screw retained restoration requires a number of extra steps to ensure the framework has passive fit, and ideally, the restoration should induce no stress on the implant.
SUITABILITY FOR USE WITH ANGLED IMPLANTS
For esthetic reasons, it is not possible to place screw holes in the incisal or facial contours of implant crowns. If the implant angle is slightly incorrect, then it is necessary to use an angled, screw-retained abutment which increases the cost. In this case, it is much easier to rely on a cement-retained crown using either a custom abutment for a stock angled abutment.
STOCK ABUTMENTS VERSUS CUSTOM ABUTMENTS
For each implant case, you will need to decide whether to use a stock implant abutment or a custom implant abutment. To make the right decision, it is worth being aware of the features of each option so you can make the best choice for your patient.
WHEN TO CHOOSE STOCK ABUTMENTS
Stock abutments are standard sizes and may be used for bone level and tissue level implants. Dental implant companies have designed stock abutments to be user-friendly, making it possible to easily take impressions. Stock abutments tend to be used for cement retained restorations and are often an economical choice. You can choose between angled and straight abutments, and stock abutments are best used for tissue level implants that are not within the esthetic zone.
One problem with stock abutments is because they are standard size, the tissue will conform to the shape of the abutment. This is why these abutments are not an optimal choice for use within the esthetic zone as it is more difficult for a ceramist to create the correct emergence profile, providing vital tissue support and optimal results. Another thing to consider is that with stock abutment it is not possible to control the final margin placement of the crown, as this is determined by the depth of the implant and the height of the abutment. You may need to spend more time making chairside alterations in order to get the correct fit and emergence profile.
WHEN TO CHOOSE CUSTOM ABUTMENTS
Custom abutments are suitable for either bone level or tissue level implants and may be waxed or milled into precisely the right shape relative to the crest of the tissue. There are several different types of custom abutments that may be made from titanium or zirconia, or will be fabricated from zirconia with a titanium base. When placing a custom abutment, the use of delivery jigs helps ensure the restorative process is smoother and more accurate, saving valuable chairside time. One aspect to consider with custom abutments is that although they are more expensive, they can provide more predictable esthetics and superior tissue management. They can be suitable for both screw retained and cemented crowns. Clinically, custom abutments can be more efficient than stock abutments, making them a more cost-effective option as you will save on lab fees in modifying stock abutments and on clinical resources during fitting.
WHY MOST DENTISTS PREFER TITANIUM OVER ZIRCONIA
---

TITANIUM IMPLANTS

Most dental implants are made from titanium, a material with proven biocompatibility that integrates with bone extremely well. Bone is able to grow on the surface of titanium dental implants, making them immovable. The success rates for titanium alloy implants is typically 95% or even higher. Initially, pure titanium was used to fabricate implant components but was found to be too soft, which is why implant companies developed an alloy capable of offering superior strength while still retaining excellent biocompatible properties. Although there haven't been any cases of allergic reactions to titanium, very occasionally some people may be particularly allergic or sensitive to other metals used in the alloy. Around 5% of people have a nickel sensitivity or may have other concerns about having anything metal in their body.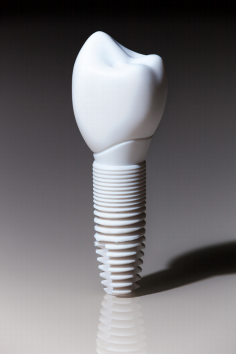 ZIRCONIUM IMPLANTS
Due to concerns about possible sensitivities and allergies to titanium alloy, some companies have researched and developed metal-free implants using zirconium. Although this material is called a ceramic, it does contain trace amounts of two other metals, hafnium, and yttrium which helps to improve its properties. Zirconia is extremely strong and it osseointegrated in a similar way to titanium.
PROS AND CONS OF EACH MATERIAL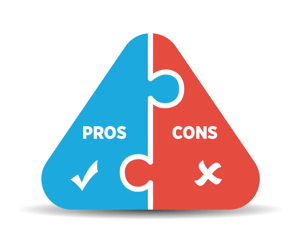 Titanium is proven to be successful in implants that are still functioning well after decades of use. It is possible zirconia will be equally successful but at the moment, long-term success rates are not available. Titanium implants are more versatile because they are fabricated as one or two-piece systems, allowing dentists greater flexibility in planning treatment and in surgical placement. The options for use are greater as titanium implants may be used to support fixed restorations, as well as overdentures.
Zirconium implants are fabricated in a single piece so implant restorations must be cemented in place. Greater care needs to be taken when placing these implants and bone volume is particularly important because there is so little room for error. However, there are several advantages of using zirconia dental implants, as the material is thermally non-conductive and it will not corrode. The ceramic color of the material ensures there is no risk of metal showing at the gum line, but the possibility of this happening with titanium implants is rare.
In most cases, using titanium dental implants will provide reliable results backed by years of research and development. Titanium implants provide a more flexible approach to treatment that may ultimately produce better results for the patient. However, if a patient has real concerns about using metal implants, zirconium could be a useful alternative on occasion, provided the patient understands the possible limitations of this treatment.
TYPES OF CROWNS TO USE WHEN PLACING A CUSTOM ABUTMENT
---

Crowns that may be used when placing a custom abutment include PFMs, e-max. full gold, and zirconia which may be layered or full-contoured. PFMs and full gold crowns are the most reliable choice since even, temporary cement can be used to hold them in place. Both are good options where space is limited since PFMs can be constructed with metal bite stops where the patient's bite is particularly heavy, or where they may be opposing another implant crown. Esthetics may be one disadvantage of using PFMs, particularly around the gingival margin.
Lithium disilicate or e.max crowns can make very successful restorations for zirconia custom abutments. Using resin cement with these crowns reduces the risk of fracturing. One problem with using resin cement is its translucency and low viscosity which can make it difficult to ensure no cement remains sub-gingivally. As a result, resin cement should not be used where the margin is more than 1mm subgingival and is only recommended if additional strength is needed from an e.max crown.
Full contour zirconia crowns can be very successful, but there is no long-term literature into their effect on tooth enamel. Wear on opposing teeth from full zirconia is not yet clear. Layered zirconia crowns require greater occlusal clearance compared to full-contour crowns. Aesthetically, all-ceramic crowns can provide the highest standards of restoration but this does rely on the technician's skill in using these materials.
Ultimately, your choice of crown will depend on the type of custom abutment chosen, the location of the abutment, and the patient's personal preferences.
More helpful links:
Minimizing the risk of dental implant complications »
Zirconia Dental Implants - Pros and Cons »
Fixed implant bridges: Treatment Details »
Advantages of Zirconia implant abutments »
Tooth Replacement: Implant versus bridge »
Screw-retained implant crown »
When to use narrow diameter dental implants »