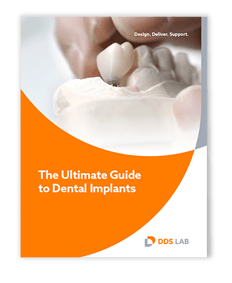 Everything you need to know about Implants
Figures from the AAID show that currently, 3 million people in the United States have dental implants, a figure that is growing by 500,000 annually. Patient demand for dental implants is increasing, in part due to public awareness about this service and the fact that it has one of the highest success rates in dentistry at a rate of 95% or more.
In this guide, we discuss:

Popular Implant Systems Amongst Dentists
Types of Implants
Pros and Cons of Model-Less Restorations
The Benefits of Using CT Scans
Surgically Guided Implants
Full Zirconia Implant-Retained Prosthesis
FREE TECHTALK - THE ULTIMATE GUIDE TO DENTAL IMPLANTS
Complete this form to download your free copy of our TechTalk.
Complete this form to download our FREE White Paper
We will always keep your information safe.